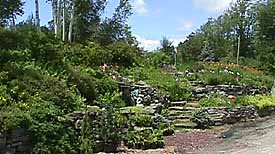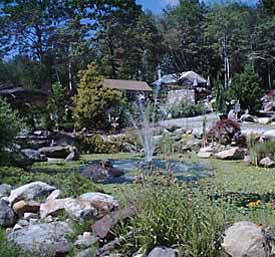 Site Development
We are a full-service landscape design and nursery based in the Berkshires for some fifteen years. As a result, we understand the soil and water conditions here and the sorts of problems you may face when building or renovating your home. For example, the heavy clay soil throughout the Berkshires poses a problem for certain plants for drainage. In addition, for Massachusetts residents, there is the added complication of Title V septic regulations, and we are a licensed contractor for septic installations.
If you visit our own site, you'll see it is located on the side of a hill and it demonstrates the importance of dealing with water and land. The hillside gives us challenges, but also opportunities to control and direct the water, to provide proper drainage, and to deal with any erosion problems.
For example, at the upper level, there are five culverts going into the pond to give drainage for the driveway and to provide irrigation for the nursery plants.
We offer many services to the homeowner: pond installation, boulder work, land clearing and excavating, grade changes, road and driveway installation, with a variety of mulches, gravels, sand and top soils. We also install septic and drain systems.
We invite you to come out to talk with us, to tour our gardens, and to enjoy the magnificent views overlooking the pond.